Support for Individuals
Fair Start Scotland is Scotland's employment support service. This service has been developed by listening to people with lived experience and who use employment support services.
Overview
How Fair Start Scotland can help individuals
There are lots of people who want to work but find it hard to find the right job that meets their needs and is flexible enough for their circumstances. Fair Start Scotland treats people with dignity and respect by providing flexible support, taking into account personal circumstances and removing barriers to accessing work.
Fair Start Scotland can support you if you have struggled to find a job which meets your needs, participation is completely voluntary and choosing to take part won't affect your existing benefits.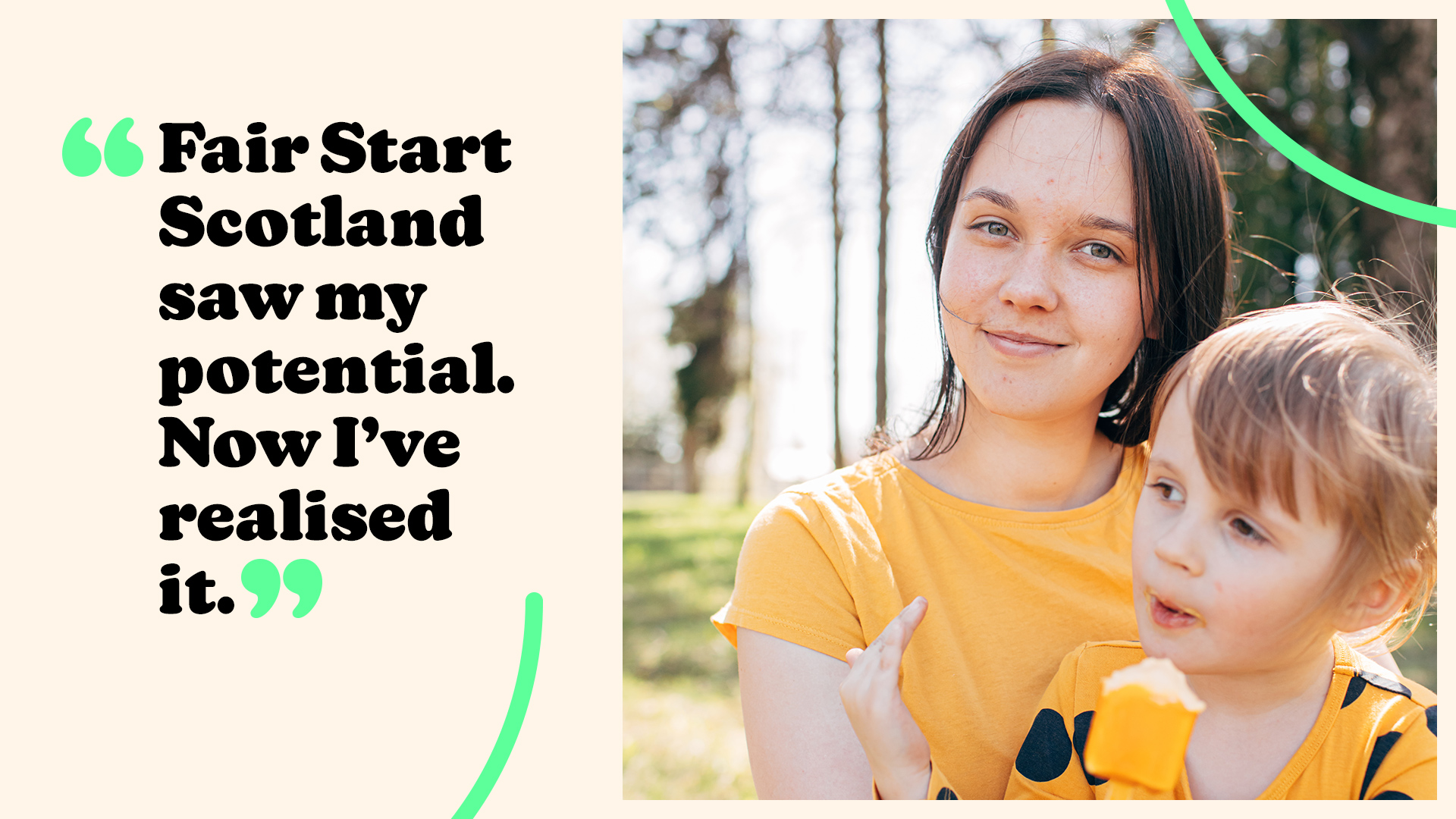 How it works
Fair Start Scotland will:
put you first, working together to provide the right support for you;
give you a dedicated adviser who will listen, guide and help you achieve your goals;
recognise and help you develop your skills and experience;
help you find work that suits you
provide up to 12 months pre work support along with a further period of in work support tailored to suit you.
Your advisor will:
meet with you weekly
work with you to identify and make the most of your skills
find opportunities to help you gain skills and experience
help build your confidence
help you create/update a CV and prepare for interviews
find jobs which meet your needs
After you've found a job
Your adviser will continue keep in touch with you and your employer regularly:
to identify any support you might need in your new role; and
to make sure everything is going well and to answer any questions you might have.
This means that there is someone to help should you have any problems or questions up to 12 months after you start working.
Find out more
If you would like further information on how to receive support from Fair Start Scotland, please visit www.mygov.scot/FairStart and select your local council from the dropdown list to find Fair Start Scotland contact details for your area.
Alternatively you can call the Fair Start Scotland Information Line on 0800 804 8108. The line is open 10am to 4pm Monday to Friday.
Who is eligible for Fair Start Scotland?
Groups eligible from Day 1 of unemployment include:        
Lone Parents
Care experienced young people
Person with a conviction   
Refugees
Unemployed with a health condition that is a barrier to work
Ethnic minorities
Resident in 15% most deprived SIMD areas
Anyone who has a health condition and is found to have a limited capability for work (LCW) or a limited capability for work-related activity (LCWRA) following a Work Capability Assessment
Anyone who is Disabled as defined by the Equality Act 2010
If none of the above categories apply, people are also eligible as they reach 12 months unemployment.
To be able to take part in Fair Start Scotland, individuals must be living in Scotland and be eligible to work in the United Kingdom.
Eligible individuals must not be in paid work of any kind at point of referral, including permitted work.
Find your local provider
If you would like to talk to someone about how Fair Start Scotland can help you, click on the subheading for your area.
Questions?
Read our FAQs to find out more about Fair Start Scotland.
What people have to say
"The process of going through the Fair Start Scotland service was seamless. It was so easy, helping me get to a point where I was comfortable applying for different roles. I've regained my independence and having a job has helped me with my finances. Being able to work from home during the pandemic has also been a huge help."
Fair Start Scotland Participant
"I was feeling anxious about finding work, but when I contacted Fair Start Scotland they reassured me that with the skills I had, I could find work. Fair Start Scotland helped me identify potential roles as well as supporting me to tailor my CV to jobs in the contact centre industry."
Fair Start Scotland Participant